Málaga on satamakaupunki Etelä-Espanjassa, Andalusiassa , Costa del Solilla. Se on myös Málagan maakunnan pääkaupunki. Málagaa ympäröivät vuoret ja kaksi jokea: Guadalmedina ja Guadalhorce, jotka laskevat Välimereen kaupungin lähellä. 
Koska Málagan keskusta on lähellä satamaa kaupunkiin tuovat tuloja maatalous ja turismi. Kaupungissa on yliopisto ja kansainvälinen lentokenttä, Málagan lentoasema. Kaupunki ja Costa del Sol ovat erittäin suosittuja turistikohteita ja kaupunkiin tulee halpoja lentoja eri puolilta Eurooppaa. Jatkoyhteydet muihin Andalusian kaupunkeihin, Sevillaan, Córdobaan ja Granadaan hoituvat autolla, junalla tai linja-autolla. Kaupungissa on myös runsaasti omia nähtävyyksiä, museoita, kirkkoja ja linnoituksia.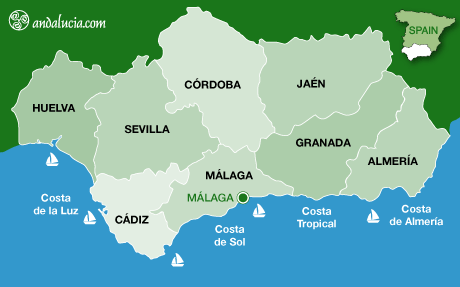 Sen lisäksi, että Malaga on Costa Del Solin helmi ja siellä on parhaat aurinkorannat ja biletyspaikat, se on myös legendaarisen taiteilijan Pablo Picasson synnyinkaupunki.Malagassa on yli 300 aurinkoista päivää vuodessa, joten ei ole ihme, että se houkuttelee rantaelämään mieltyneitä matkaajia.
In addition to that, than Malaga are Costa Dels Solis pearl and thereof is the best beach in the sun party places, it is also a legendary artist Pablo Picasso's native city. Malaga has more than 300 sunny days a year, so it is no wonder that it attracts beach life predilection for travelers.
PS. Malagan aurinkorannat on myös monen julkkiksen "asuin" paikka 😉 Siellä voi törmätä mm. Jari Sillanpäähän ja Samuli Edelmaniin.
Onspain kielikoulu
Onspain kielikoulu on kielikoulu Malagassa, jossa voit oppia espanjaa eri tasoilla. Kouluille ryhmien ja yksilöiden Onspain voi tarjota paketteja  räätälöidyn opetussuunnitelman kanssa. Onspain järjestää ryhmämatkoja ympäri Andalusia kaikenlaisille ryhmille, mukaanluettuna koulut ja yritykset.
Onspain Language School is a language school in Malaga where you can learn Spanish at various levels. For schools groups and individuals Onspain can offer packages with a specially planned curriculum. Onspain can organize group trips around Andalusia for any kind of group, including schools and companies.